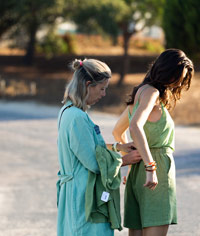 Lien De Vroe Sportief, creatief, chaoot, sociaal beest met gevoel voor humor en bovenalles trotse mama van Andres (17) en Robyn (11)

"Bronson werd samen met Four Roses 7 jaar geleden mijn derde kind, het is een "way of life" geworden.
Professioneel creatief bezig zijn was mijn droom, een collectie ontwerpen de grootste uitdaging.
Ik ontwerp een vlotte mannencollectie met mooie materialen en toffe kleuraccenten.
Broeken met een comfortabele pasvorm en steeds in thema met de hemden en truien.

Naast de collectie hou ik me bezig met alles wat branding is. De catalogus, fotoshoots, Social media, showrooms, aankleding van de winkels. De puzzel moet kloppen.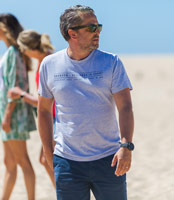 Miguel Uytterhaegen Realist, gestructureerd, ambitieus en bovenal trotse papa.

"Ondernemen is mijn passie. Het bedrijfsleven heeft me altijd enorm geboeid, alles wat erbij komt interesseert me. Met 15 jaar ervaring in productie- en personeelsmanagement ben ik zeer complementair met mijn echtgenote. We hebben beiden ons afgebakend domein en vertrouwen elkaar daarin 100 %. Dat is een luxepositie om vanuit te ondernemen. Elke dag is anders en de tijd vliegt, dat wil zeggen dat we goed bezig zijn.
Ons merk uitbouwen tot een stabiel Belgisch label dat ook in het buitenland zijn weg vindt is onze ambitie."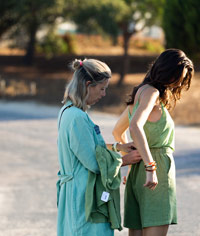 Lien De Vroe Lien is an athletic person, creative mind, scatterbrain, people person with a good sense of humour and above all a dedicated mum for Andres (15) and Robyn (8).

Five years ago, BRONSON became her third child. Moreover, she could finally live her dream that soon became a new way of living! She designed her own collection with careful attention for vibrant colours and soft materials. She considers a design a real success when it serves the multiple purpose of being comfortable and elegant, adding sophistication to everyday wear. In addition, she is also taking care of all branding aspects like catalogue, photoshoots and social media, setting of showrooms and stores.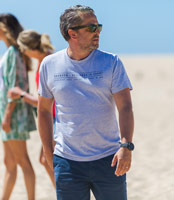 Miguel Uytterhaegen Miguel has always been passionate about business life. Thanks to his 15 years of experience in production and staff/HR management, he forms a highly complementary team together with Lien. Their growing success is founded on mutual trust, which is essential when running the business together. Every day brings new opportunities and challenges but they are highly motivated and happy to seize the day and make the very best out of it!